For a few hours, three obnoxious, arrogant, narcissistic public figures reunited around a table (they made sure to respect the meter of distance though) thinking the poor people of the world were eager to have an explanation concerning their decision to step-down as royals from the Windsor family. By the time folks are losing their jobs, suffering from emotional distress due to the uncertainty of the future, Meghan Markle really had to make sure we, the peasants, would hear her well. She too, a woman of color, had a great deal of pain which probably surpasses anyone else's. Those are the kind of people who actually wake up in the morning with their first thoughts going to them. "What will the world need from us today?" In their spirits, yes, the universe evolves around them.
The British and Australian media did not need to wait for too long before expressing their true feelings regarding the Oprah-Meghan-Harry circus displayed on our screens. Nobody, on the white side, fell for that. Nobody. And I include myself in it, though I am not white.
Meghan Markle is no victim but a manipulative being who calculated her movements. We all know who the Windsors are. We were all exposed to the horrific treatment received by Lady Diana before she was set up in a car crash accident in 1997. We still remember it, as if that was yersterday. She was outspoken about her mental illness and the constant disrespect she faced as Charles could never keep his pants on and chose a discount version of delicate and delicious Diana over his amazing life with the two boys he had with her. No one can expect the Windsors-Mountbattens to change and turn into people they will never be. The royal family is a corporation of racist, colonial White individuals who actually want to reduce the population of Africa, a continent they have been known to plunder and destroy so as to pick the best diamonds to place on the Queen's crown and head. The family acquired a significant amount of wealth through slavery as well and will do anything to preserve their reptilian lineage.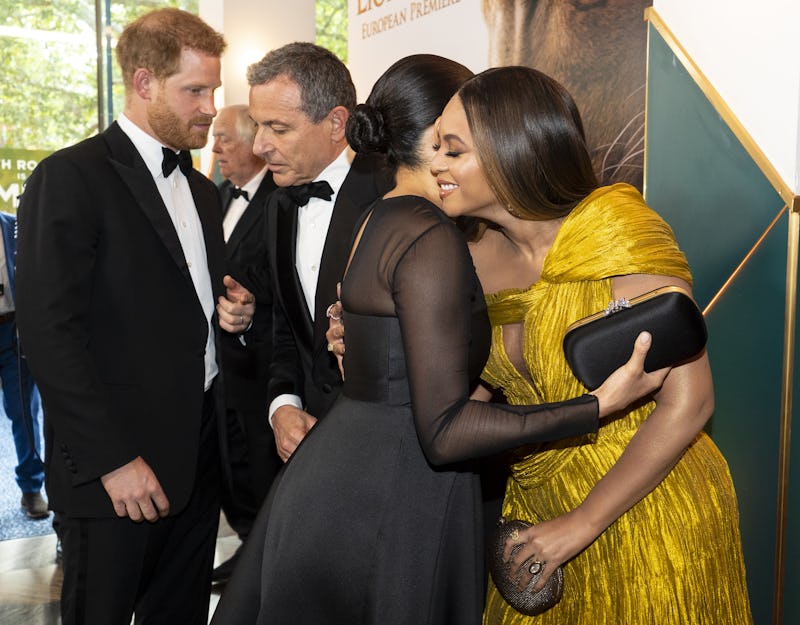 The choice of Oprah Winfrey was calculated. Most African-American men know how Winfrey plays the game. She would be like a female Jay-Z.
She was always known as a snake and never stopped using her platform to destroy black men such as Michael Jackson or Kobe Bryant even in times of death. They picked her for this interview as a way to establish and preserve a certain "black sisterhood" and be ready to pull the race card if any White European journalist -British, understand Piers Morgan-, was to stand up and defend the Crown. And as White male journalists from the United Kingdom, Australia and Scottland were outraged regarding the disrespect of both Harry and Meghan towards the Crown and thus Queen Elizabeth II, dark skin black women, in both the United Kingdom and America were the first in line to defend their mixed White princess, Meghan, who was supposed to bring some melanin to the colonial house. Black women did it with Kamala Harris, an Indian woman with a small percentage of African blood through a lost Negroid Jamaican great-grandmother somewhere down her father's line, and they keep doing it with Meghan. They were the new avengers team which got together to defend their light-skin queen against sensical White male journalists who have had enough of Harry's wife arrogance and narcissism.
Once again, dark skin black women proved to have not one single ounce of self-love as they still want to be recognised by the ones in the sphere who are given the highest form of visibility. Their case would be comparable to that of the pretty light-skin girl in the club who gets all the attention but who is still surrounded by her dark best friends who will pull up at anytime if a man embarasses the "queen" of the group. Their agressivity is their way to beg for the light-skin recognition and hopefully have some men's attention. Their adoration of opportunist and anti-Black Beyoncé follows the same pattern. They would support a woman who, along with her parents, supported colorism, broke the spirits of her fellow band members, nurtured their low self-esteem and quoted Bill Gates in her song Formation -the most anti-Black White warlock of our times- to empower the Black women she never cared about ten years ago as she preferred to be seen as a feminist first, before speaking out on black issues until it became trendy.
Meghan Markle, just like Kamala Harris, is a dark skin black woman's favorite sister. They would defend her at all costs. When, in reality, Meghan is not even black and never considered herself to be a black woman, but rather biracial, which she is. Yet, she, according to black women, was about to bring the little melanin she had into Elizabeth's house.
In this particular matter, it is important to realize how dark skin black women are the first to speak out against colorism, but also the first to claim mixed white people with a little African ancestry as one of theirs fully. In a previous article published on the website, it was mentioned how Afro-Boricua academics exposed Jessica Krug and not African American women who were too scared of her sacred "light skin". The latter fell for her trauma narrative and did not want to hurt the little troubled Mulatta they thought she was, until the Black Puerto-Ricans decided to react. The latest category marks a certain difference in the sense that they still have a lot of self-pride and love which does not let them allow anybody in their circle. A form of self-appreciation Black American women seem to lack, greatly.
How can, as a consequence, black women in America and in the UK claim to want to gatekeep, be angry at Jessica Krug, yet, keep a safe space for mixed white women like Meghan Markle they maintain at the top? How can Soledad O'Brien be allowed to speak on black issues when she is not even an African-American, but a mixed Afro-Cuban who happens to be white-passing? This contradiction can not be tolerated and appears to be a deliberate choice by Black women themselves who still want to live through the projection of their favorite quadroons and octoroons. In this case, many are not the allies they say they are, but full supporters of an oppressive system which dates back to the times of slavery and colonialism. Indeed, Meghan Markle was selfish enough to get involved in the royal family, knowing very well that the institution was colonial and racist. And yet, black women celebrated her. For what? For siding with racist family members who hope to keep Africa at the bottom?
Both Jessica Krug and Rachel Dolezal would not have entered black spaces if there was zero demand in the first place. They had access to the sphere for one reason. They knew black people wanted them. People like them. A blackness like theirs. Who would want to go back to the White kingdom when belonging to the higher sphere of reverence from the lowest social category according to White people's criteria?
The question of Archie's skin tone was also another manipulative trick to support the one drop rule as well. We know Meghan did not marry into a Latin family, understand southern European royalty. The Windsors are from Northern Europe and like their counterparts in Belgium, the Netherlands, Luxembourg or Sweden, this category of white people were the first to apply policies of apartheid. They disdain race-mixing and want to remain pure. Meghan was accepted for being the whitest passing mixed woman but yet, her son will never be black, but a mixed white man. However, many forget that the Northern Europeans were the original creators of the one drop rule and as a consequence, they will never consider Archie to be one of them. As usual, Black women would recognise the little baby as their heir to the throne and pick up White people's reject* when the mother, Meghan, betrayed black people themselves by siding with a racist family in the first place.
Black women from the West are hypocrite and the main machine which contributes to the destruction and confusion as well. They were the ones to elect Kamala Harris, a lady who despises black men she massively incarcerated, and the other mixed women who sided with the authorities against black people and yet, when Dolezals and Krugs are exposed they pretend to be angry when in reality, they adore seeing tormented white people who want to look like them. The obsession for Black Americans for these white and mixed white people/political leaders is not new. By the 19th century already, black people were the first to support the elevation of new leaders created by the one drop rule. They already had a passion and an excitement for these white/mixed people who were proud enough to cape for their black side and rejected the privilege. Years later, during the Civil Rights Movement, Black Panther leaders and regular protestors, black men, sent the Negroid poor black women like Afeni Shakur in the back and privileged women such as Elaine Brown, Angela Davis, Kathy Cleaver and iconic ladies such as Rosa Parks as symbols of resistance. All these women were mixed and not black and unfortunately, all the black women who had to deal with the backlash of the movement were sent to jail, fell into the brutal spiral of drugs and were never promoted by black men and women at all. No one cares for the black female Negroids who fought for the cause.
And black women are the first to be involved in this machine of blackness destruction at the expense of the Mulattoes who never claim them in the first place, until they fall hard on their backs.
How can black women preach about colorism and self-love while teaching their own kid that "blackness" extends as far as Meghan Markle?
All Rights Reserved
VKY
*In now way do I consider Archie Mountbatten-Windsor to be a "reject". He is a wonderful child with a bright future. The tone is rather ironic regarding the unfair scheme of race relationships between the different groups.